It's still not too late to donate!
Click the button below to make an online donation.

The KFMB Warrior Foundation/Freedom Station Fundraiser is dedicated to raising money to help our injured warriors during the holiday season.
Through the generosity and kind spirit of our community, the Warrior Foundation/Freedom Station Fundraiser serves to help send military heroes home for the holidays. The fundraiser also raises funds to aid in transitioning our military men and women (many of whom are going through rehab in San Diego) back to civilian life.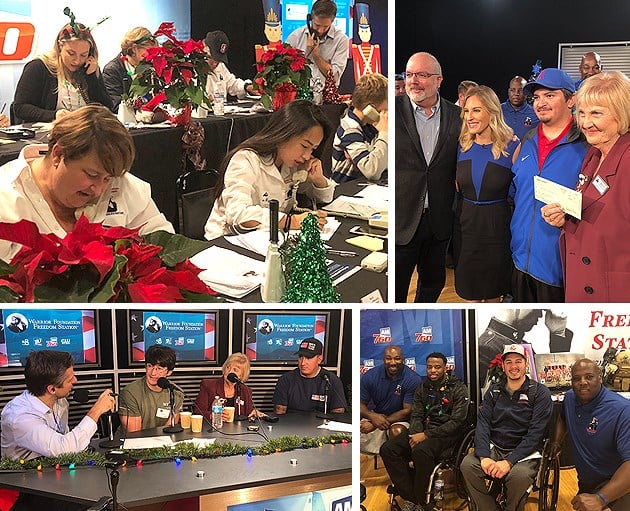 Learn How Your Donation Helps
Click Here or the images below to watch Warrior Foundation/Freedom Station Fundraiser interviews with the special warriors who have been helped.
Watch Mike Slater interview warriors who have benefited from the AM 760 KFMB Warrior Foundation/Freedom Station Fundraiser in years past. Click on the images below to watch and listen to their stories to further see how your donation can profoundly help our military men and women.
Our Mission
In 2004, AM 760 KFMB set-out on a simple mission - to raise funds to provide razors to a handful of local warriors who had been injured while fighting the ongoing war against terrorism. Now, the mission has expanded and so has the need to accomplish more with the help and generosity of AM 760 KFMB listeners.
Since its inception, the Warrior Foundation has managed to raise close to $17 million. This year, AM 760 KFMB is once again proud to spearhead the effort to raise money and help our injured warriors for the holidays.
AM 760 KFMB would also like to offer a special THANK YOU to our sponsors, each of whom have played an important role in helping to make the Warrior Foundation/Freedom Station Fundraiser a success.
And most importantly, thank you San Diego and the AM 760 KFMB listeners for helping to send our warriors home for the holidays. We hope to be able to send all the warriors home this year. Warriors need to wake up in their own beds and be with their own families during the holiday season. With your help we can make it happen!
WARRIOR FOUNDATION - FREEDOM STATION MISSION STATEMENT - Warrior Foundation - Freedom Station aims to be the leading force in assisting, honoring and supporting the military men and women who have so bravely served and sacrificed for our country. We are committed to supporting our warriors in a variety of ways, providing quality-of-life items, support services and transitional housing designed to assist them and their families during recovery.

We have FOUR GROUPS of Warriors which the Foundation will now, with your generous support, be able to continue helping.
Our FIRST GROUP is the S.I.'s or Seriously Injured who come home from Iraq or Afghanistan with immediate needs, both medical and emotional.
The SECOND GROUP of Warriors have suffered from exposure to blast from IED's, some even from as many as seven different explosions.
Those in our THIRD GROUP have been going through physical therapy and occupational therapy for 4 years or longer.
Our FOURTH GROUP is those Warriors who have been medically retired and remain in our community. We want to keep these great citizens in the San Diego area where we can continue to help them as they transition back into civilian life.